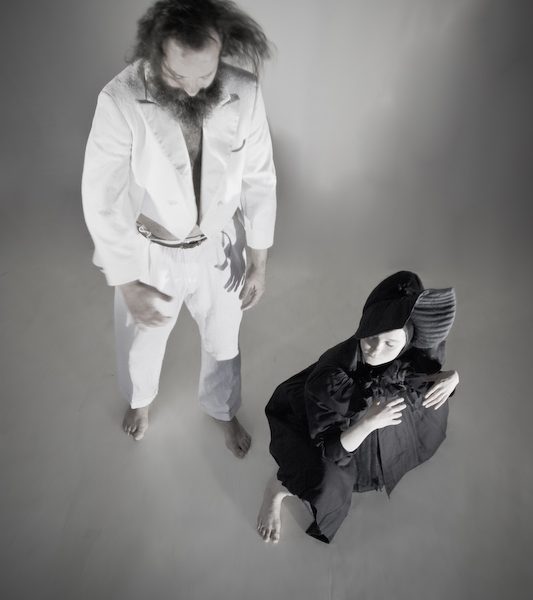 Title :
ALZBETA (duo)
Concept :
EVA KLIMACKOVA
Dance :
EVA KLIMACKOVA,
CONSTANTIN LEU
Music :
ARAMIS MAZER
Costume :
JANA KUZMOVA
Lights :
THIERRY DERET
Photos :
PHILIPPE DEUTSCH
Duration of duet :
30 min
With a support of :
L'ATELIER DE PARIS – CAROLYN CARLSON   www.atelierdeparis.org
CCN d'ORLEANS – Prêt de studio   www.josefnadj.com
Le Studio Regarde du cygne  www.leregarducygne.com
LA GRANGE DU PIERRON, Lailly en Val   www.laGrangeduPierron.fr
ALZBETA is a cruel piece, unintentionally so, like an unknown number. A piece of fiction inspired by animals and humans, festive, yet serious in its absurdity,its violence and its naivety.
duet ALZBETA
This story, inspired by fairytales, takes place beyond time. It developed from the meeting of two «characters», both a little strange. Their playful and savage relationship evolves throughout the piece in surreal, and yet deadly serious way. The obvious never remains so. The atmosphere reminds us of the villages of Eastern Europe, where festivities are tainted with melancholy and morbidity. The use of pure physicality to explore inner violence, obsession, savageness, animality and restraint, has produced a dance which is simultaneously tragic and funny.