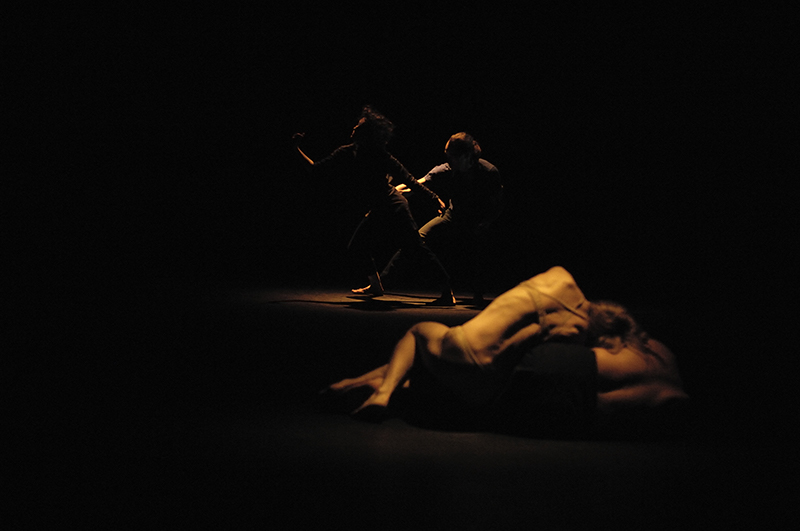 Title :
TOUCH.ED
Concept :
EVA KLIMACKOVA
Dance :
EVA KLIMACKOVA
MARIKA RIZZI
TOMAS NEPSINSKY
SYLVAIN REMBERT
Music :
UN ESCARGOT VIDE ?, SEBASTIEN PETIT, ROBERT PIECHAUD
Design/lights :
ALEXANDRINE DALOISO, PHILIPPE DEUTSCH
Duration :
50 min
Production : cie E7KA Coproduction : ADAMI, Mairie de Paris, SE.S.TA / Prague, KoresponDance Europe, Institut slovaque de Paris With a support of : Atelier de Paris – Carolyn Carlson, Micadanses, Théâtre Etoile du Nord / Paris, La compagnie Beau Geste / Val de Reuil, Danse Dense / Pantin, Canaldanse / Paris
A graphic space designed by the purity of signature.
The shapes, the lines, the textures, the formes and the absences of the body.
Traces in the infinite labyrinth of our body in movement.
Fragments of the sensitive body that stay printed forever.
Touch.ed
"… The poetry is the only reality. What they sell us as a "real" doesn't exist…" Claude Régy
In this creation we look torward sensorial and unconscious world to let appear a tranparent poetry of the body. Reinventing the body architecture, we let arise a movement vocabulary based on sobriety of gestures, lines, qualities, wolumes, sounds. We explore the vibrations of inner and extern spaces and dynamics through movement and senses. Relying on contrast as a support we go from the material body – towards a more virtual and metalic world.